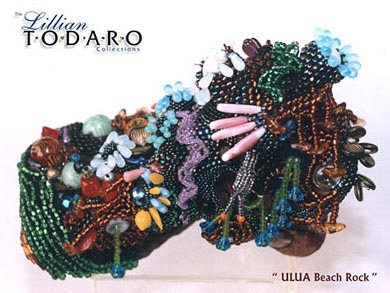 Winner "Best of Show"
Los Angeles Bead Challenge.
One-of-a-Kind.
Woven on an underlying structure of singed red wood found on the shoreline after a storm in Redondo Beach, CA. This free standing free form sculpture is a portrayal of a natural scene of underwater rocks in my favorite place to snorkel on Maui.
With its beaded encrustation's and kinetic undulating tentacles and seaweed it entices and challenges the viewer to look further. Inviting contemplation and exploration of mine and natures organic building processes of time and patience.
Made with: Vintage glass, fresh water pearls, Czech art glass, fire polished crystals, fine Czech, German and Japanese seed beads. Southern California driftwood core. *(seed bead category)
Signed by the artist. Includes your Certificate of Authenticity.

One of a kind - $4500.